Store Road rising main UV pressure pipe lining
Category
Infrastructure
---
Client
Thames Water
---
Location
King George V Dock, London
---
Project Date
Phase 1: late 2019
Phase 2: February 2020
Phase 3: early 2021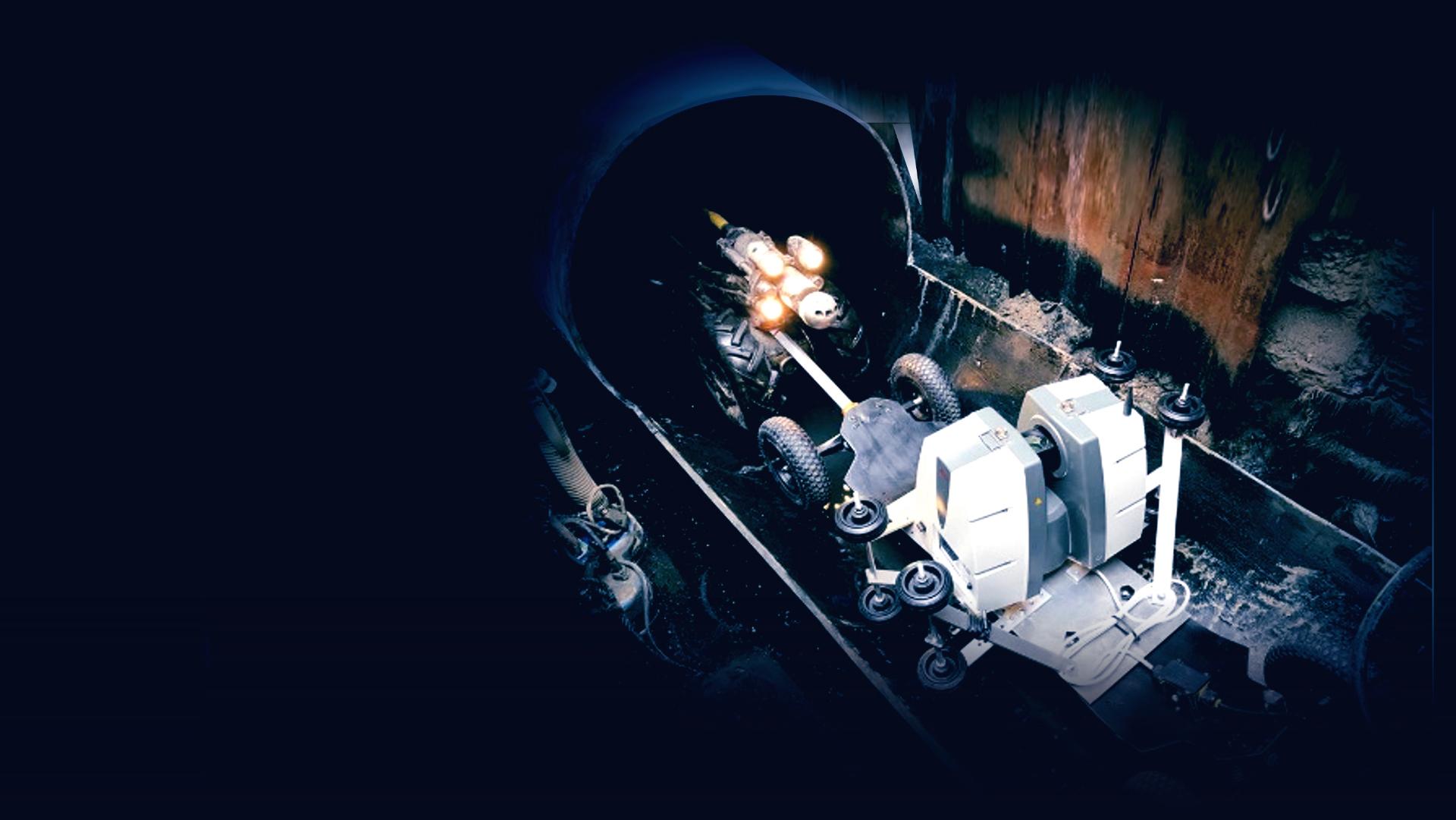 Project
background
McAllister was engaged by our delivery partner Thames Water / Eight2O to install 800 mm diameter pressure UV liners at the Store Road rising main at King George V Dock. It had a history of frequent failures that lead to service interruptions and disruptions for the local community due to repair works and traffic congestion.
Install
800mm
Ø pressure UV liners
The Eight2O alliance brings together global expertise from multiple sectors – including Thames Water – aligned around common goals and a shared vision for the UK's water infrastructure.
All partners pool their best people, practices and techniques to deliver innovative, sustainable solutions. This approach provides greater value for money and benefits to Thames Water customers while maintaining a stable return.
Eight2O is responsible for the Store Road rising. It was installed in the late 1970s and early 1980s, along with sections of the GRP. It is classified as a C-class main and pumps domestic and commercial waste for treatment through parallel, twin 800 mm diameter pipes.
Over time, a combination of hydrogen sulphide gas, the corrosiveness of the waste, and high temperatures attacked the internal rubber seals, causing several of failures. These recurrent failures resulted in significant disruption to residents and a high cost of repairs. It was time for a permanent, proactive rehabilitation solution.
Minimising disruption for residents

Our goal was to remediate the pressure main from the Store Road pumping station. A recent burst in the area was close to the only access route into a large residential estate, so an open cut repair was not feasible. Instead, we excavated two pits and installed a UV pressure liner between these two points. The liner was capable of withstanding pressures between 12 bar and -0.9 bar – almost a perfect vacuum.

Access for design

The first step was to open the pipe and conduct a survey and laser scan to assess the feasibility of the liner installation. We modified a scanning device to scan the 800 mm pipe while completing the mainline survey. We established the ovality for design inputs and ensured that we could install the liner successfully. The outcome was a 10% deformed pipe.

Chemical classified waste

The effluent in this sewer is very corrosive, with extreme pH variances between pH 1 and pH 11. High temperatures caused this corrosive waste to attack the host pipe. We resolved to use a UV liner with vinyl ester resin and double-layered chemical fleece to protect the pipe.

Limitations in access

We designed and fabricated a complex winching frame to install this 15-ton liner. We had to factor in a reverse pull and ensure it could withstand a 10-ton pull force. The winching frame allowed us to work in the limited space around the excavation at Royal Docks.

Reconnection to the main

Once the liner was installed and cured, we would need to install glass-reinforced plastic (GRP) resin fixed flanges. These flanges would enable us to reconnect it to the main. We would then finish it off with an outer glass fibre wrap to secure the host pipe, liner, and flange coupler together.
The Royal Docks area was very different when the original main was installed in the late 1970s and early 1980s. It was home to a heavy industrial gas facility, which left much hazardous waste in the ground.
Today, Royal Docks is home to many high-density residential properties built over the pipeline route. This combination of factors presents challenges for accessing and repairing the pipeline. Excavations come at a considerable cost for categorising and disposing of the waste in the ground.
Any replacement pipeline would have to take a longer, diverted route to avoid the residential properties. Even then, such works would cause significant disruptions to local people.
McAllister understood the clients' goals and their concerns about these challenges from the conceptual stage. We designed a solution that took all of these factors into account to meet the client's objectives
Bespoke surveying and scanning equipment

Specialised pressure pipe liner that featured:

Extreme chemical and effluent resistance | Resistance to pressures that vary between 12 bar and -0.9 bar (an almost perfect vacuum) | High temperature resistance | 120-year design life

Bespoke, templated end connectors
We excavated launch and reception pits at various distances and installed the pressure UV liner between these points. We followed a carefully planned installation sequence to complete the project swiftly and successfully.
01Undertake a final cleaning and a pre-lining CCTV survey of the pipe immediately before the liner installation.
02Install the liner
03Fit and seal the flange collar to either end of the liner
04Fix seals across the inner connection.
05Conduct a water pressure test to 5.25 bar – 1.5 times the main's working pressure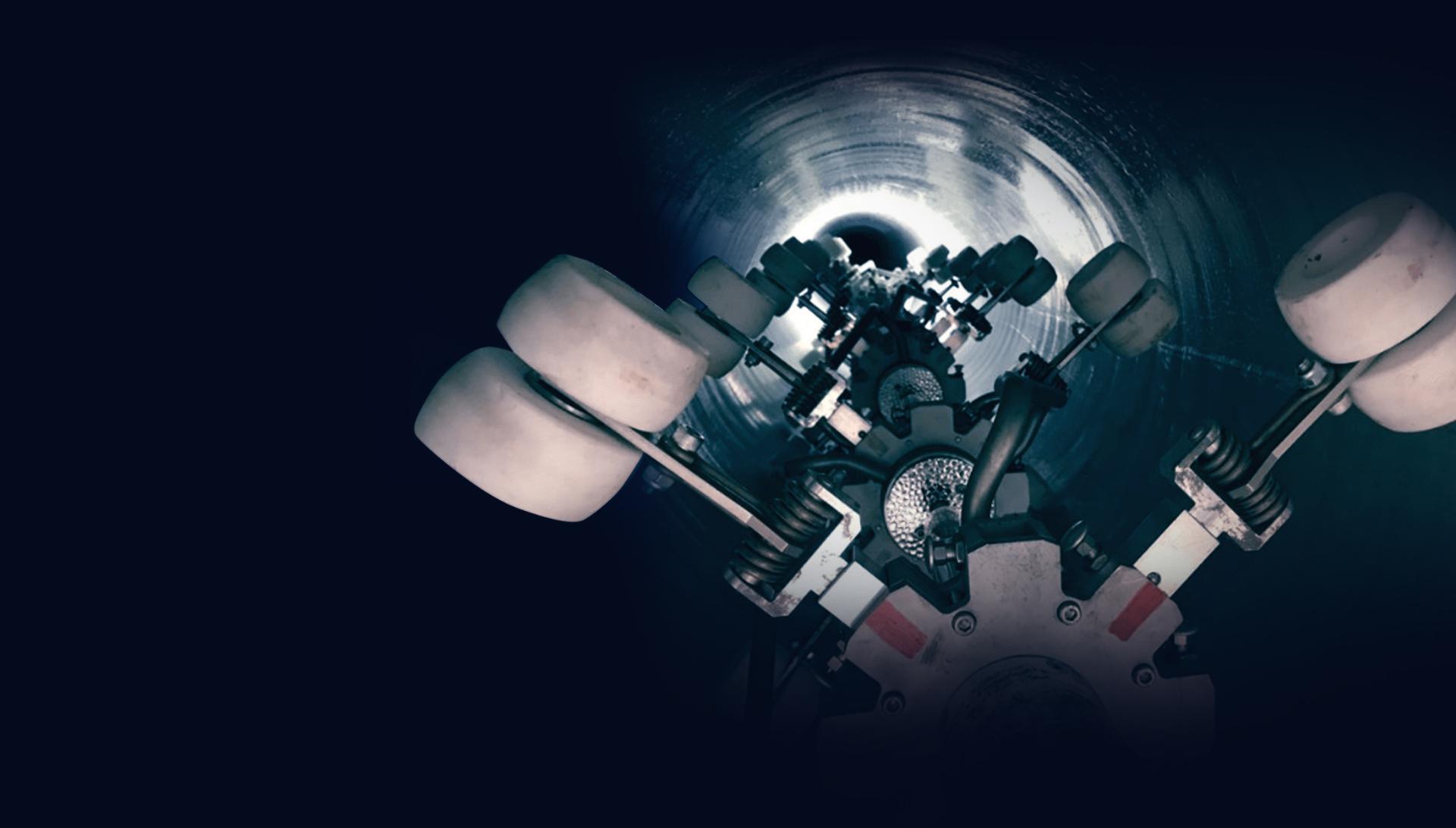 Going below for a bespoke pressure pipe installation...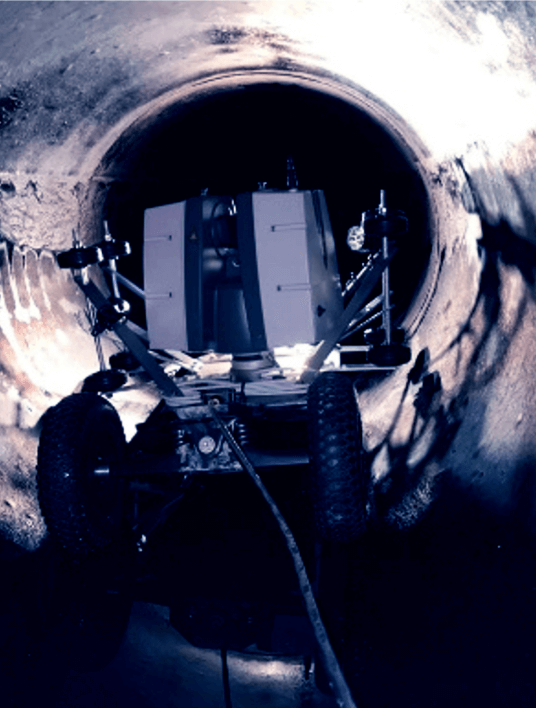 Specially designed scanning equipment
Our innovation for this project began at the investigation stage when we conducted a detailed survey of the main with a bespoke laser scanner designed specifically for this project. It allowed us to assess the main condition, identify its ovality, and assess many other complexities that we had to consider before designing a solution for a large diameter pipe.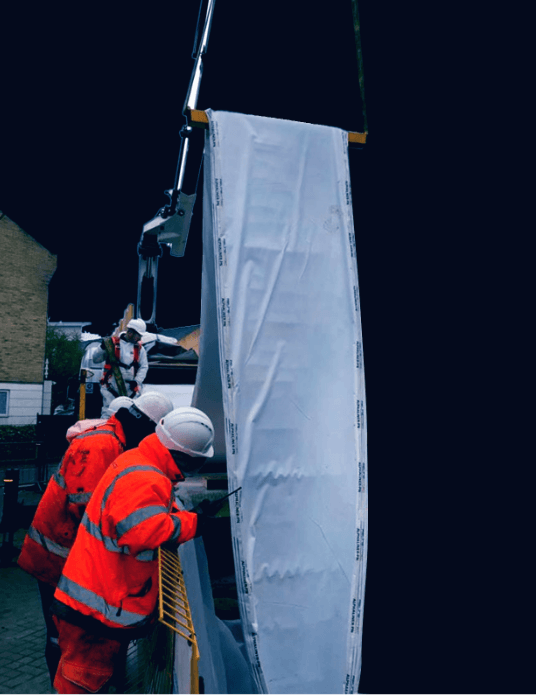 A carefully designed and manufactured liner
We worked with the client to identify a lining solution used on smaller, less complex projects in other parts of the world. We collaborated with the manufacturer to develop a fully designed, structural, chemical-resistant rising main rehabilitation solution. This unique liner can withstand both negative and positive pressures. Our manufacturing partner produced a specific end flange for the end of each liner and we worked with the manufacturer to guarantee a preceise fit.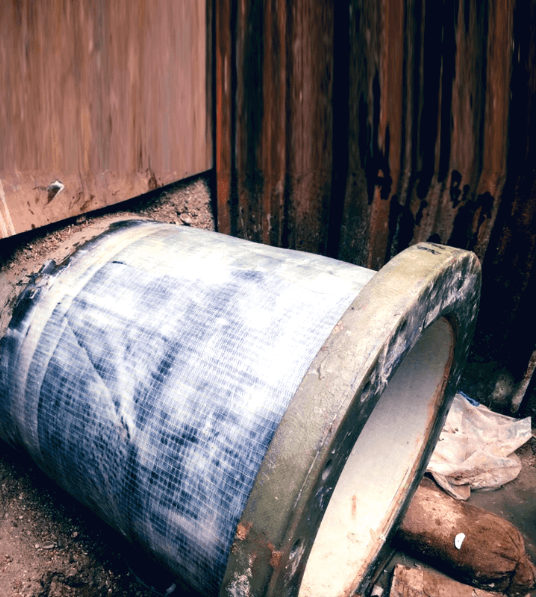 We take liner quality and testing seriously because it is key to meeting and exceeding our clients' requirements.
Testing to the highest standards
We take liner quality and testing seriously because it is key to meeting and exceeding our clients' requirements. We test our liners to the highest standards. We used design specification State III for "cracked pipes with larger deformations and considerable risk of collapse or burst in the near future" from the principles of ASTM D3839-14.
The largest UV pressure pipe liner ever installed
One of our installations at the Store Road main turned out to be the largest wastewater UV pressure pipe liner ever installed – 180 m x 800 mm.
We delivered this unique project on time and within budget. The key was to understand our client's objective and use our industry knowledge to design a bespoke solution.
The Store Road main can now withstand operational activity for the next 120 years – a vast improvement on the original installation's working life of 30-40 years.
We delivered the project within the defined programme with very few deviations. It was the first installation of this type and size in the UK. Knowing this, we were methodical and used all our experience to identify and mitigate all risks.